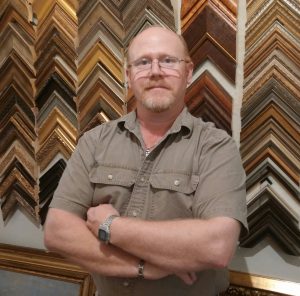 CHRIS RAPP FRAMES
2117 Frankfort Avenue
Louisville, Kentucky 40206 USA
(502)897-7521
Lets face it, more than ever people are taking pride in their homes.
Whether you have art or a family treasure, you want to be confident that the value of your item and your wishes are being held in the highest regard. With all the worries in the world today why should you worry about your framer? You want to leave it in the hands of a professional that has attributes like these…
Over 25 years of museum quality preservation experience.
Hands on knowledge of how to take care of everything from small keepsakes and family photos, to museum quality paintings, prints and frames.
Someone that stands behind his work and takes pride in his craft.
Someone that takes charge of your items, cares for it and frames it as if it were his own.
Perhaps the reason people keep coming back is because they know that no matter what they need, we can take care of them with a wide range of services. Some of which include:
Custom framing with a wide variety of matting, wood and metal moldings
Plexiglas boxes and displays
Shadow-box frames
Shrink-wrap
Mirrors beveled and framed
French matting and fabric mats
Repair of some sculptures and keepsakes
Full restoration of frames, paintings, prints and some old photos
If you're looking for high quality framing with no hassle and competitive pricing…
STOP BY AND GIVE US A TRY