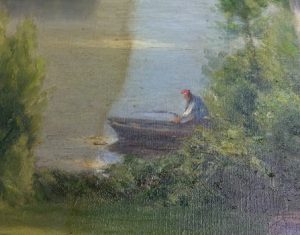 "Restoration" is a term used for the repair or revitalization of any type of painting, print, old photograph, sculpture or frame. There are so many scenarios in which art can be harmed. It can come in the form of smoke, water , rips, scratches, holes, dirt from age, or spills. Mold can also be destructive as well. All of these damages, and more, can mostly, if not fully, be reversed.
When framing something new, there are some options you want to consider. You could revisit something you had framed in the past, or change something you have recently acquired. Preventing damage can be just as important.
For example:
Paintings should have a good coat of varnish as a protective barrier.
Paper items should be matted and framed in acid free materials and should be behind glass. You might even consider protecting it against ultraviolet light.
C. R. Frames has repaired and restored for museums and your neighbors. Everything from a single chip in the finish of a frame, to the casting and recreation of the whole side of a frame. From rejoining a loose corner of a molding to restoring a truck load of framed art that was in a house fire. We have varnished brand new paintings and restored paintings from the year 1798 and the Civil War. Sometimes we just take something apart, freshen it up and put it back together.
So whether you have a loose corner on one of your frames, want to preserve an old family portrait, freshen up that tired old piece or fully restore a museum quality treasure, trust the professionals at C. R. Frames.